Metadata, generally, is a set of data that describes and gives information about other data, whilst Metadata Management involves managing data about other data.
As a user of Metadata Management solution, you don't really need to know or be involved in everything concerning the enterprise architecture. The solution you're using should help you achieve that in a very simple way.
Oracle Enterprise Metadata Management
A long-awaited solution that has been built from the ground up, introduced a few weeks ago at Oracle Open World 2014. It's not a mere promise of a fully integrated functional Metadata Management solution, but a real one that you can start using right away.
OEMM does not only help you in managing your enterprise-level metadata but also to build a business glossary, conduct impact analysis, lineage analysis, life cycle management and so much more. It works brilliantly with Oracle's owned solutions and virtually any vendor's metadata provider; thanks to the partnership we have with "Meta Integration Technology", which provides us with bridges to connect to those metadata providers.
In OEMM, there is a concept called "stitching" which basically does all the linking and mapping between your data sources, integration solutions, all the way up to your enterprise analytical and intelligence applications.
Impact Analysis
Have you ever wondered what and who would be impacted if you change a certain attribute, constraint, relation or structure within your data? You probably have many reports and analyses built on certain sources and if you, as a developer, would change any of the mentioned, a failure might just happen. Risky, isn't it?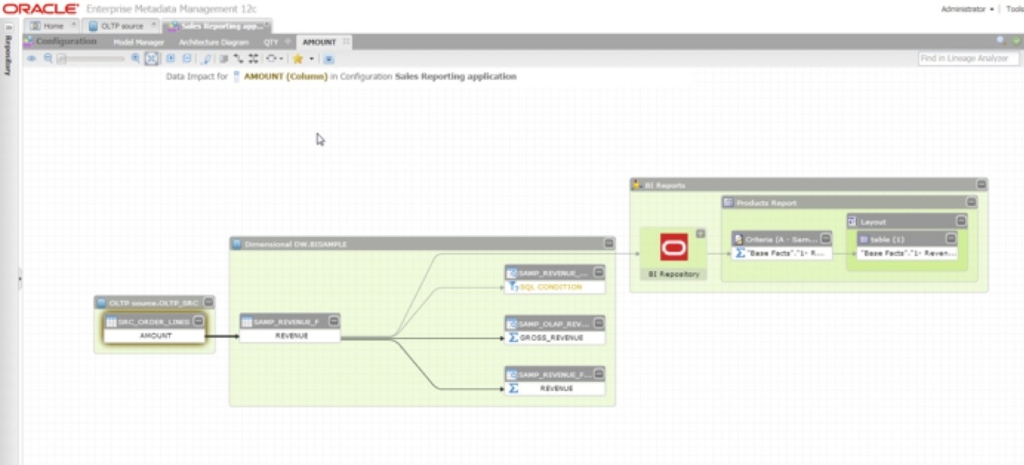 With OEMM, you can eliminate this risk with a click of a mouse. You'll be able to see full impact analysis of any source to your integration strategies and applications. I'm talking full and accurate flow from that source through all your processes, until that very high-level report.
Data Lineage
Where the data is coming from? You've got your report, and as a manager or BI developer, you might want to know where a certain value in that report is coming from. To answer such a question, you would conventionally be a guru of your entire enterprise architecture and go ask different teams about it.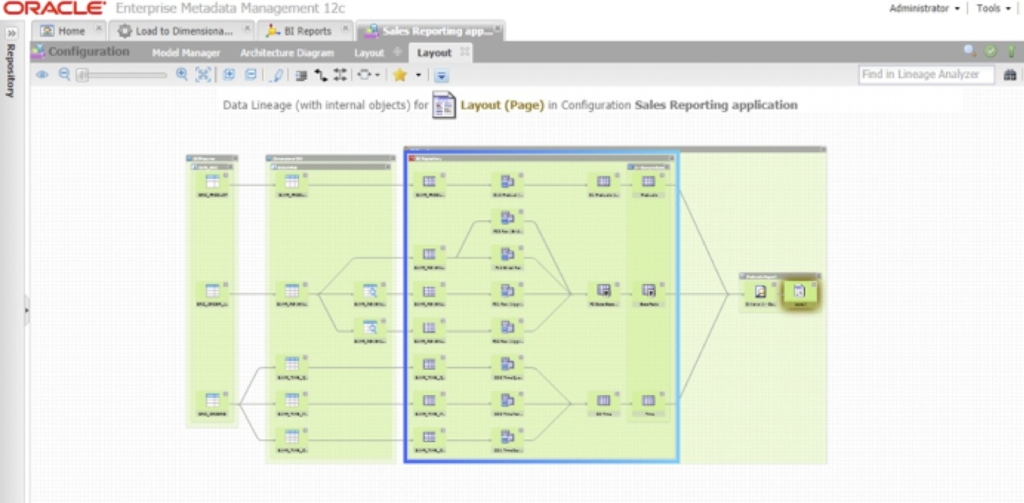 With OEMM, that is quite a simple task to do. You can view the lineage graphically and in text format. Thanks to OEMM rich GUI, you'll also have total control of the visualization. A complex 4-levels data lineage flow would look just very simple.
Versioning and Lifecycle Change Management
OEMM has the ability to store multiple versions of any metadata, track and analyze changes over time. Whilst Life Cycle Management is the process of managing the entire lifecycle, versioning is the process of assigning either unique version names or unique version numbers.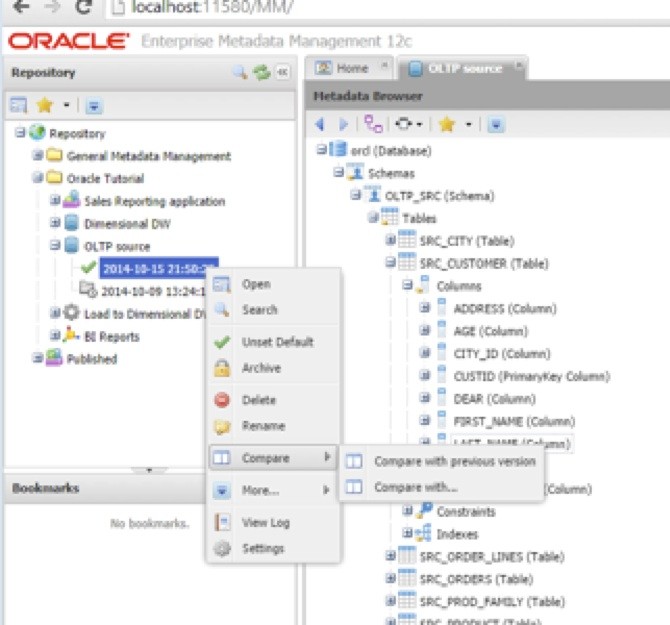 I see both are very connected to each other. In OEMM, when it comes to Lifecycle Change Management, you'll be able to create a new copy of an existing "stitched" configuration. With versioning, you'll be able to import/create versions of specific models that are used by configurations.

To simplify it, think of Lifecycle Change Management as a project with milestones, and on each milestone, you make a copy. When you run your impact or lineage analysis, you'll be able to select which copy/version of that configuration to run against. For model versioning, think of it as a working methodology throughout a certain milestone to test how changes look like, for testing, optimization or simply auditing purposes. You'll be able to compare two different versions and track the changes between them.
Business Glossary
Unlike competing products in the market, Business Glossary is shipped with OEMM itself; it's not a separate product. To have a true sense of metadata management, you need to run semantic analysis on your terminology, data definitions, code sets, domains and validation rules. OEMM provides an ISO 11179 based Business Glossary to capture, define, maintain and implement an enterprise Business Glossary.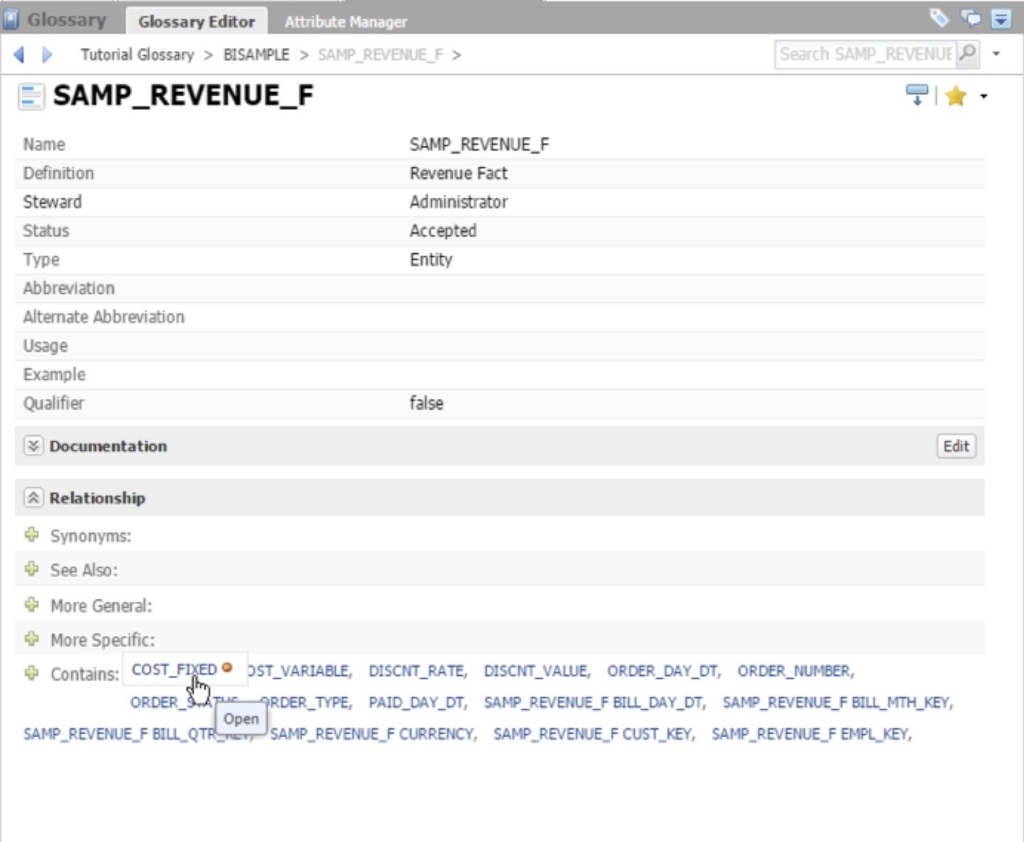 OEMM helps you leveraging the well-defined business metadata such as descriptions, domains, business rules, relationship definitions and generalizations. Having this, you may perform semantic impact analysis and reverse lineage, to see the definition or meaning.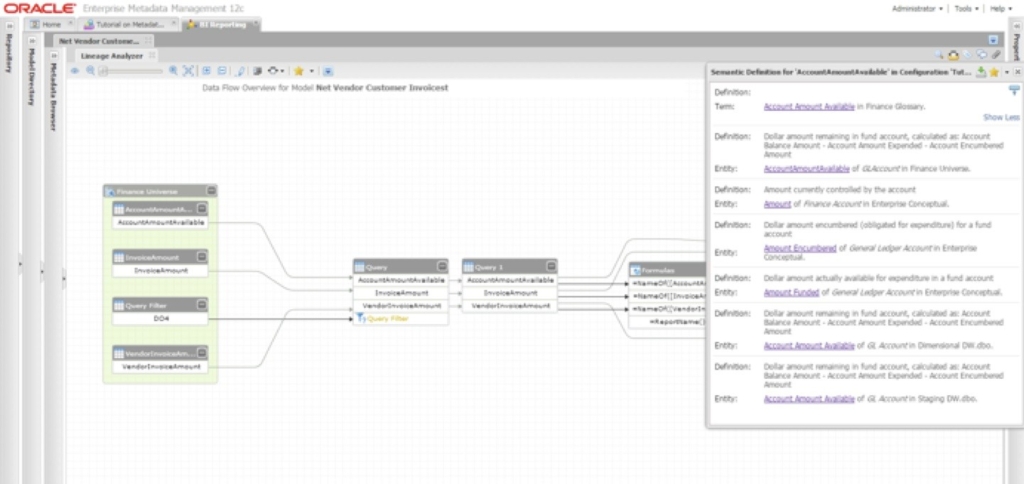 Collaboration
Commenting, labeling and annotating are just few features of collaboration capabilities in OEMM. Users are able to use such features in addition to rating, bookmarking and even get a link to point directly to a selected component in analysis or model.

Having such functionality is a huge add-on to enhance productivity and efficiency between different users.
Business Users
We have got them covered as well. OEMM has a special and dedicated interface that is simple and removes the complexity of the full-features interface. Business users can use this interface on virtually any device such as mobiles and tablets.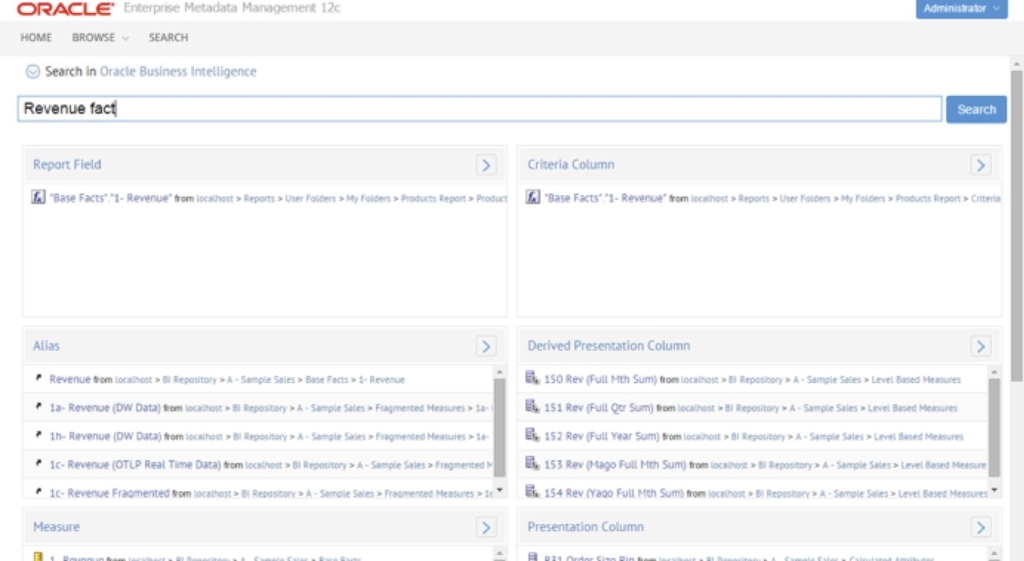 The business users' interface is mainly search-driven. This means that you can search any metadata and get the entity of interest right away and do the lineage analysis and impact analysis.
Administration
It cannot get any simpler. OEMM helps you to define different groups, users, assign privileges, schedule tasks, check logs and run maintenance scripts periodically to optimize performance.
Conclusion
OEMM is a compressive and advanced metadata solution, yet a very simple one to use. You can start running impact and lineage analysis right away, thanks to its simple installation, configuration and rich graphical user interface, which can be accessed from any web browser. It's a must-to-have for enterprises that want to understand the impact of changes to data upstream, and surfacing data lineage reports along to increasing trust and confidence in information stored.
In the next few days, I'll be going through a set of article episodes describing the functionality of OEMM one-by-one, starting from installation/configuration all the way up to fully administer it. Stay tuned!
Have any questions? Please feel free to share in the comments area below.